Germanium Preamp GP-1 History
Tex Mex Effects was launched in 2016 with the goal of providing high quality, hand crafted analog guitar effects pedals that are both visually and sonically striking. All pedals are proudly made in Texas!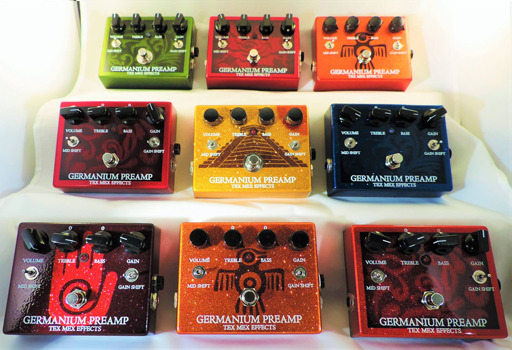 I started building guitar pedals in the mid '90s as a college student who couldn't afford to buy the latest offerings from the big manufacturers or the vintage pedals being sold at the guitar shows I frequented. Driven by my passion for guitar/music and an obsession for taking things apart to see how they worked, I found books and magazine articles by Craig Anderton, purchased a cheap soldering iron and dove right in. Soon after, I found Aron Nelson's forum (now diystompboxes.com) and the great community that existed there.
Drawing upon 30+ years experience playing the guitar and 20+ years building/modifying pedals for myself, my designs are inspired by classic vintage effects and incorporate added flexibility and tonal options not normally found in mass produced effects pedals.
Tex Mex Effects artwork and paint jobs are inspired by the custom cars, hot rods, low riders and bikes I watched my uncles build & paint when I was a kid.
Each pedal's paint job involves a time consuming multi-step process using the finest automotive grade paint and flake which results in a stunning finish that demands attention.
Silkscreen lettering is done in house as well. A final layer of clear coat is applied over the lettering to help ensure it is not easily rubbed off. The clear coat used is UV resistant so your pedals brilliant colors will not fade with time.